02.25.2007
Friday was my 'off' day. So no 'gym horror stories' from me. Saturday morning, 8 a.m., I met Mike at the gym and we worked on legs. When we were done, my legs would barely hold me and were so shaky, but it felt great!!! One other guy was in there, but when Mike is there helping me, I don't feel so intimidated…maybe it's the actual 'alone' thing that gets me, who knows. After we did the weight workout, I did one mile on the treadmill.
Now, here's the best and most legitimate reason you will EVER hear from anyone, as to why I didn't go further on the treadmill. My legs were fine at that point, so that isn't it.
I kid you not, the man 2 treadmills over from me had MAN-GAS so freaking badly I couldn't take it anymore. It was everything I had in me not to gag. The lady at the front desk actually finally came back with a can of Lysol and acted like she was spraying the machines as to not offend him, but C'MON MAN! You don't know you are in gassing up an ENTIRE freaking room?????????? Oh my gosh, it was unbearable. So I left in a giggle-fit, just not even believing someone wouldn't have the common courtesy to LEAVE THE ROOM. How hard is that??? Is the treadmill you are on, THAT precious that you might lose it to someone else while you excuse yourself to another room to 'do your thing'????? HA! Now THAT was a fun gym day! I'll take the obnoxious gym-stud over that ANY day!
After the gym we headed out and found a new couch and loveseat. Here she is…it looks really plain here, but we got it in a dark chocolate brown and it has really cute patterned pillows that come with it and we also got the matching loveseat.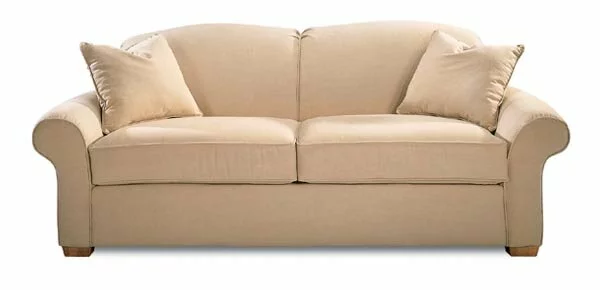 We won't get it until Mid-April, that was the only downside. We were out and about for over 6 hours…I'm figuring about 3 hours of that was walking around.
So after walking all that time and my workout in the morning, I earned about 18 activity points. I don't use them ever, but still…that's pretty damn active. Felt great.
Today, however, my legs whimper everytime I try to move, even a smidge. And to end this topic on a VERY positive note, my legs hurt even worse when I try to sit down to potty.
Here's a new recipe for me that I made today for the first time. Made it up myself. AND, on the advice of Skwigg to avoid the scale and instead take pictures of EVERYTHING…I took pictures!!
First, at Sam's Club, I found this organic Artisan Bread…FAT FREE…but still 3 points per serving, but well worth it…it's delicious!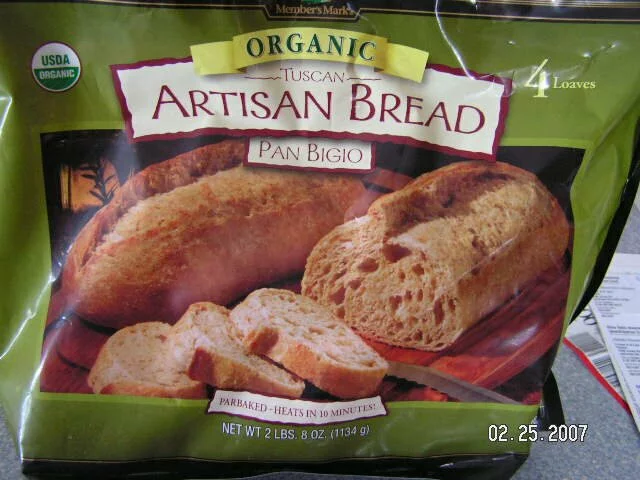 I baked the bread as directed, then I took my ingredients: Olive oil mixed with garlic powder, tomato slices & mozzarella cheese (2 pts. for 1/4 Cup)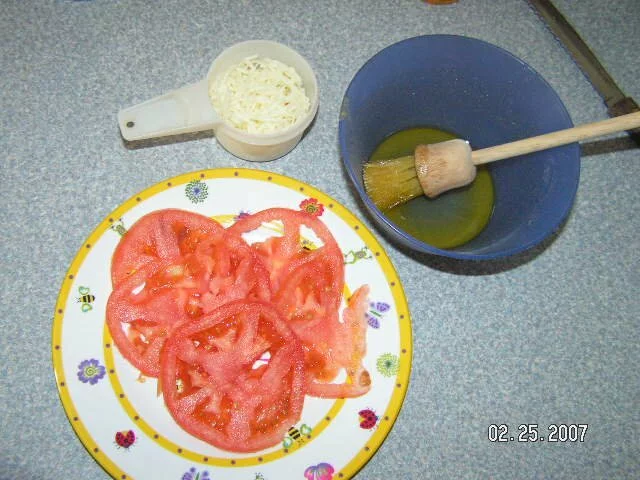 I brushed the bread slices with the olive oil and garlic mixture: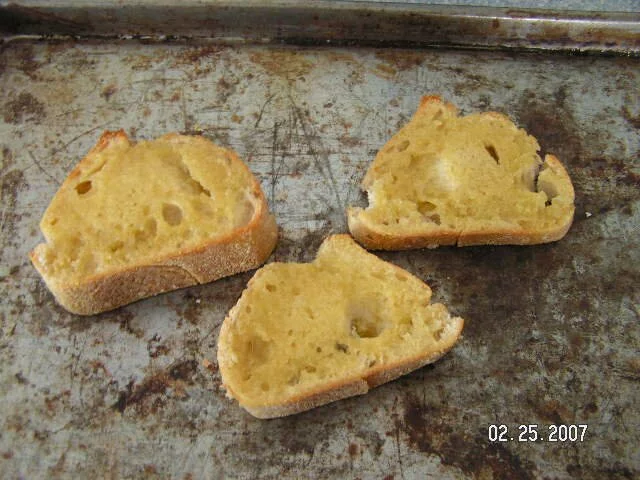 I put that under a low broiler for about 2 minutes, just to get it a bit crispy, and when it came out of the oven I added the toppings:
Put them back in the warm oven for just a couple of minutes to melt the cheese, and WA-LA! Here they are along with my glass of Crystal Lite rasperry green tea…yummy!!!!